Three of the four Premier League teams who embarked on their European quest have made it to the last 16 of the Champions League but who, if any, will be will be crowned champions of the continent this season?
It was almost a perfect four out of four for England's representatives in this prestigious competition but Liverpool failed to beat Swiss champions Basel at Anfield in their last group game.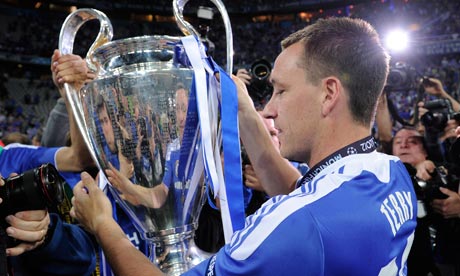 That means another chapter of Liverpool's esteemed history in Europe's premier club competition will have to wait at least another season to be written and we are left with Arsenal, Chelsea and Manchester City to fly the flag for St George.
The Gunners were handed the draw of their dreams in the form of Monaco in the last 16 of the tournament, when it took place in Nyon, Switzerland. It's always dangerous for a manager to say who they would prefer before the draw, as inevitably that side will see the gesture as somewhat of a slur and will have added motivation to pull off a scalp.
That does not seem to have concerned Arsenal boss Arsene Wenger, who was more than happy to suggest taking on his former club would be his preferred opposition.
With the likes of Real Madrid, Barcelona and Bayern Munich also possible candidates for the north Londoners in the draw, you could hardly blame the experienced French tactician for the statement. Needless to say for the first time, in a long time, the Gunners were handed a favourable draw and it seems like a bit of karma has been satisfied.
Time and time again Wenger's sides have been pitted against some of the real powerhouses of European football and ultimately they have come up short, as was the case last season against Bayern Munich.
But a sense of déjà vu seems to surround most of Arsenal's Champions League campaigns. Promising in the group stages, playing that passing and pressing style of football that we are so familiar with, before becoming majorly unstuck against one of the big boys.
The problem seems to be that the Gunners don't learn from when their 'Plan A' backfires. A 'Plan B' is something the Emirates faithful have been crying out for now for some time but their prayers appear to go unanswered time and time again.
The key for the Gunners is their standout summer signing Alexis Sanchez, who has a wealth of know-how of playing in the Champions League, having enjoyed the experience during his time with Barca.
Already the Chilean star will be learning the experience is not quite the same away from the Camp Nou and getting those wins does not come as simply as with Barcelona. If Sanchez can stay fit and in form then Arsenal certainly have the ability to spring some surprises.
France striker Olivier Giroud is back from injury, as is Wales star Aaron Ramsey and both players seem to be showing the type of form we know they can produce. Beating Monaco over two legs is unlikely to be the problem; the Gunners should be able to do that and do it well.
But that sense of déjà vu might well creep in once again further down the line and when a Real or a Bayern go toe-to-toe with Wenger's men then that's where the concerns arise.
Signings in January might well help the Arsenal cause, with reports linking them with James Milner, but until something fundamentally changes in the way the team play their football then Gunners fans might just have to be content with domestic cup trophies for the time being.
One team that do have the muscle to mix it up with the big boys is Manchester City and they are going to have to if they want to reach the Champions League quarter-finals this time around.
Catalan giants Barcelona lie in wait for the last 16 legs over February and March, in a repeat of their meetings in the competition last season.
Ultimately it was a case of so close yet so far, as City where beaten 4-1 on aggregate by a Barca side who know how to get things done at this stage of the competition. However, City will take great heart from how they pushed Barca last time around and they may well smell blood in the air.
Yes Barcelona on paper have a truly formidable line-up, with no team in the world really able to boast as capable a front three as Lionel Messi, Luis Suarez and Neymar. But the fact is that this is a Barca side that does not seem to be at total ease with itself, with pressure starting to mount on manager Luis Enrique.
This is not the same Barcelona that was orchestrated by Pep Guardiola or Tito Vilanova; this is a side that is finding itself second best to a resurgent Real Madrid in La Liga and sometimes struggling to see off lesser opposition.
Of course the experience and sheer quality still flows through this side but opposition teams don't seem to hold that same fear as before, when many games were won for Barca before a ball was even kicked.
The problem for City is that they seem to have an inferiority complex when it comes to the Champions League.
They have been a dominant force in the Premier League over recent campaigns but they have been unable to find consistent form in European's showpiece club event.
Getting striker Sergio Aguero back fit and well is of course a priority for manager Manuel Pellegrini, who if able to put out his best eleven, will be quietly confident of causing an upset.
Lowly Getafe were able to hold Barca to a goalless draw in La Liga in December, in a game that the Catalonians would usually win by four or five goals.
This Barcelona side are there to be got at and if Aguero is on form and the likes of Yaya Toure and David Silva show up on the big European stage then we could well see one of the big upsets in the last 16 draw. But those mental demons could well prevent City going all the way in the competition.
The final team flying the English flag, is Jose Mourinho's Chelsea who will be looking forward to going up against familiar foe in the form of Paris Saint-Germain.
Of course Chelsea were not so long ago champions of Europe but that was under Roberto Di Matteo and not Mourinho, which is unlikely to have sat well with the Portuguese tactician. That driving force will be something that will be pushing his players hard in Europe and PSG are the next side in the way of this blue wave.
PSG have struggled to pull away, as they have often done, in Ligue 1 this season and like Enrique at Barca the pressure is mounting on manager Laurent Blanc.
Zlatan Ibrahimovic has been dealing with niggling injuries throughout the campaign and it is hit and miss whether the great Swede will be fit when these games roll around next year.
Big summer signing David Luiz will be desperate to put one over on his former club but, as his performances at the World Cup with Brazil showed, the utility man can be somewhat of a liability on the big stage.
As for the Blues the signings of Diego Costa and Cesc Fabregas have been inspired with both players settling in well into Mourinho's system.
Not only should Chelsea prove to be too much for the French champions but they look like they are England's best chance of having another champion of Europe. Many punters with betfair or other online bookmakers will be backing the Blues this term. We've seen the sporting highlights of 2014 but Chelsea look like they could be a standout story for 2015.
With Mourinho at the helm, Fabregas pulling the strings and Costa scoring the goals, only Real Madrid and Bayern have the ability to neutralise the Londoners.
Looking at the last 16 draw for the English sides, two out of the three are likely to progress in the form of the two London clubs. But with an uncertain Barca on the scene it would not be all that surprising to see three clubs from England enter the highly-anticipated quarter-finals stage and beyond.