Jose Mourinho says that Manchester United are not focusing on the Premier League games anymore, as they want to win the Europa League.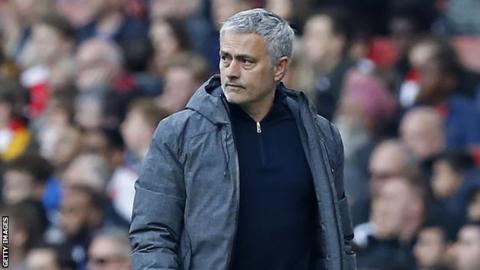 The club have qualified for the Europa League final after beating Celta de Vigo 2-1 on aggregate. Victory in this competition represents the only opportunity for United to qualify for the Champions League group stages next season. Losses against Arsenal and Tottenham mean that they will not be able to finish in the top four irrespective of the results in the remaining two matches. United suffered a 2-1 defeat at White Hart Lane on Sunday.
Jose Mourinho defended his team by saying that the club's concentration has shifted from the premier league to the European competition largely due to the lack of players. A number of injury problems has meant that United's squad is reduced to just 15 top players.
Unable to rotate his squad much, Jose Mourinho has had little opportunity but to leave out key players for the games. He has already confirmed that Daley Blind, who played the full game against Tottenham, will not take part in the midweek game against Southampton. This is so that United have key players fit and ready for the game against Ajax on May 24.
Earlier in the campaign, Manchester United won the EFL Cup."When people say that we gamble by going for the Europa League, well we didn't gamble.Nobody can play two big competitions with 15 players and this is what we have at the time. We didn't gamble.It was compulsory; what we did was compulsory. Options.I am happy with the situation today. They played 90 minutes the ones that need to play and I rested a few people. There were no injuries and one less match to play because in this moment the Premier League for us is just matches we didn't want to play," said Jose Mourinho.